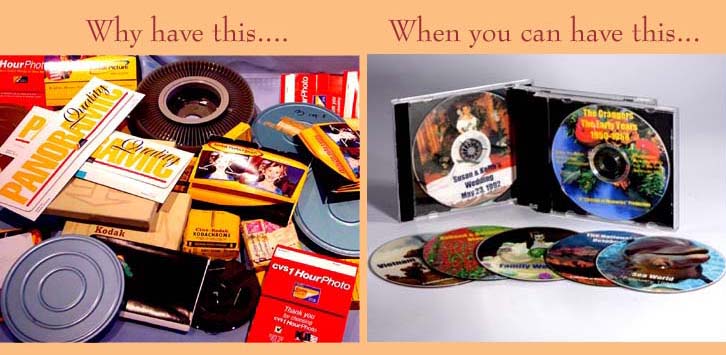 What We Convert
NEW! DVD to MP4: We can convert your dvd's or any other movie type media. We can place your media on a new Flash Drive.

FILM. Film which can be either 8mm or super 8mm, 16mm film, sound or silent. Film is cleaned with a special film cleaner. Color and brightness are corrected. These will come on a high quality DVD in a jewel case, and customized full color imprinted label on the DVD. Contents and dates are clearly marked.

SLIDES. We convert slides and photos to either DVD or CD, or Flash Drive. It can be a personal presentation with titles or a slide show. We can photograph your favorite old slides for you to have a beautiful print or just to keep on a CD for your computer. All DVDs or CDs come with a custom full color label directly imprinted on the disc with clearly marked contents with dates.

PHOTOS. Old and New Photos can be put on a special presentation with titles or something similar to a slide show. Photos can be photographed for a special print or for all to go on a picture CD to be able to show and share on your computer. They are color corrected, adjusted for how bright they should be and cropped.

VHS, SVHS, Camcorder tapes. 8mm, Hi8, digital 8mm, 16mm sound or silent film.

Every VHS or camcorder cassette that we do is given the utmost attention. These can be copied or edited if you want just a bit of one and a part of another on one DVD with titles.

The camcorder tapes are treated like all of our other services.
They are not put in and left unattended. They are watched for color, brightness, and sound that need adjusting. A special cover is made just for your project, which describes the contents and dates.